Get to the Heart of the Matter, It Could Save Your Life!
Find this article at:
go.ncsu.edu/readext?573413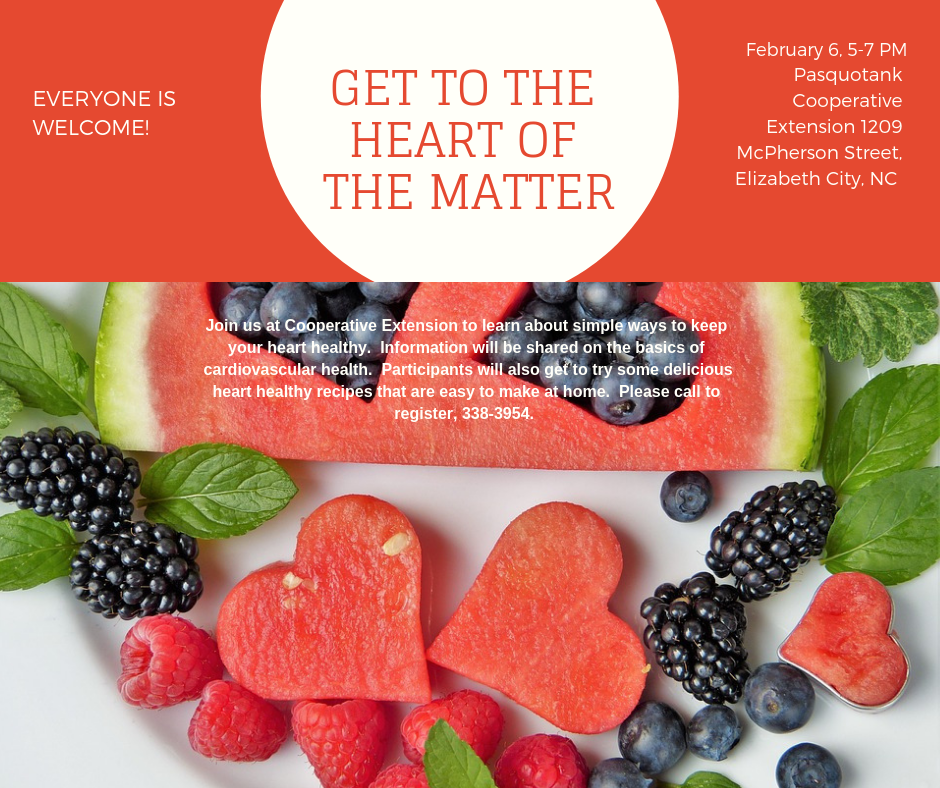 Living a healthy lifestyle can add years to your life and add life to your years. N.C. Cooperative Extension can provide educational information to assist you in achieving a healthier lifestyle. Join us at the N.C. Cooperative Extension, Pasquotank County Center on February 6, 2019, from 5-7 p.m. to learn more about ways to improve your heart health. Participants will sample some heart-healthy recipes that are easy to prepare at home. Participants can register for the workshop by calling 338-3954.
Two important steps that can help you achieve a healthier lifestyle include moving more and consuming a healthy diet.
There are also some simple changes you can make in your diet which have been shown to reduce the risk of many chronic health conditions. Some examples include:
Eat at least 5 cups of fruits and vegetables per day.
Choose legumes and beans often instead of red meat.
Choose whole grains often.
Choose fresh herbs instead of salt to flavor food.
Be physically active at least 30 minutes per day, or 150 minutes per week.
Limit sweets and sugar-sweetened beverages to no more than 3 servings per week.
Limit red meat to 2-3 times per month.
Choose stick butter or margarine rarely or never.
Choose fast food rarely or never.
Choose highly processed foods rarely or never.
Most importantly, KNOW YOUR NUMBERS. Talk with your doctor to learn more about which chronic health conditions matter most to you. Your doctor can help you determine goals to help manage these conditions. Here is a guide to help you determine if your numbers are where they need to be:
Blood pressure should be at or below 120/80 mm Hg, Triglycerides should be less than 150 mg/dL
Total Cholesterol should be less than 200 mg/dL
HDL Cholesterol should be over 40 mg/dL for men and over 50 mg/dL for women
LDL Cholesterol should be less than 100 mg/dL for everyone
The best way to look after your heart is with a healthy lifestyle. For additional information, contact your local N.C. Cooperative Extension Center or visit our website for upcoming events.